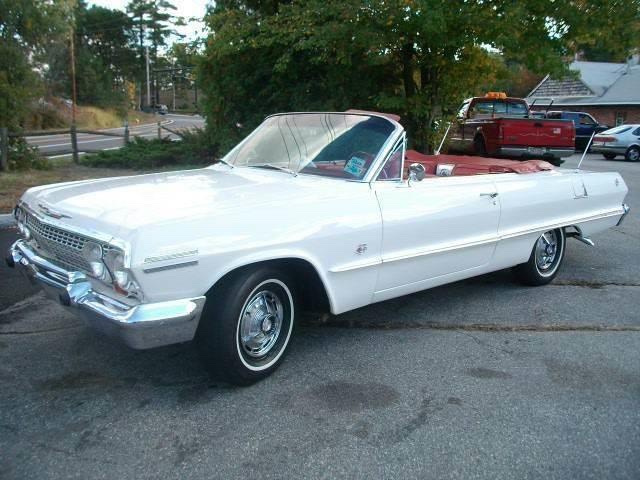 As long as I can recall, it's always been a '63 Impala convertible, white with a red interior, and one of those early big-blocks, and a four-speed on the floor. Maybe I saw one or rode in one with my dad. We were Ford men; I knew that, but that Impala was hot. You chose your allegiance early in life. Ford men and Chevy and Mopar men got along ok, but there was always a palpable suspicion.
I felt a bit of a traitor for loving the '63 Impala, but I kept it to myself; I did confess to my cousin. He was a Chevy man, he understood, even at three or four years old, we knew automotive identity was foundational, a key element of who we are.
A '63 sits on Station Road; I pass it every time on my way to Storm King.
I've stopped in twice. The first time I saw the SS in a circle after the 'Impala,' and it was indeed a four-speed on the floor. The interior was an ugly blue and nearly sixty-year-old blue, but that could be fixed. The canvas roof rotted away, but that could be replaced.
It was raining that day, and the beast smelled from years of neglect.
The next time I saw the owner outside, so I stopped. He was nice enough; he let me poke around. I recognized the 409 block by the stock exhaust manifolds, and the oddly shaped valve covers, and I saw the duel quad Rochester Q-jets up on the intake.
I asked him why he'd not got it on the road; he said, "no time." I wondered if he'd sell it, and he said, "I want to hold onto it for a little while longer."
The guy has a gutted '68 Mustang fastback sitting in the front of his house. I swear this is all there to taunt and haunt me. I look every time, wondering if I've imagined the whole scene, but there it sits every week. He has every dream car that ever mattered sitting in his driveway in pieces.
He has no idea what he has, I've told him that and it sits in the rain, and it rots. I even offered to help him get it on the road for free, but it sits there.
I drive by, and I ponder rescue missions with Osama Bob. He understands, being a Chevy man, and he doesn't hate Fords as much as he claims.
Were there even titles and VIN numbers in 1963, could it be traced?
Osama points out a flatbed in a driveway would probably draw someone's attention and the cops.
And the guy who has everything won't sell.
So the Impala and the Fastback sit and seize and rust.
There ain't nothing sadder than a graveyard in the rain.