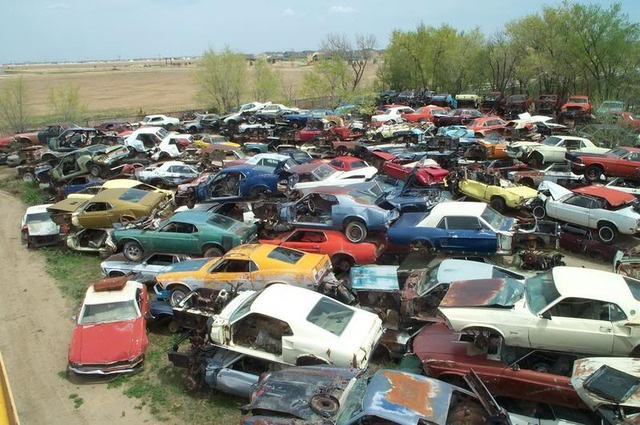 Yesterday I took the grandboy picking in a junk yard. It's one of the yards that still allow you to go pick and pull your own parts. Specht's Recycling in Warwick.
Out amongst the ruins we found gold. First find was a B-61 Thermodyne Mack. I told him I used to drive one and he spent some time fascinated and confused as I tried to explain how to shift the compound shifter and the main, and compound split and low-split and all that old Mack transmission voodoo. He asked me if I thought he'd learn to work a clutch and a stick shift and I promised him he would.
We stumbled across some big old rusted excavators and he sat in the bucket and laughed. Finally, we came to a nest of twenty-five to thirty year old Mustangs, and I told him if there's a heaven I hope it's like this, and he said he got what I meant.
We picked junk parts and worked pretty hard as the near ninty degree heat baked the dust and old cars and me and the boy. He didn't complain because he said, 'We are Ford men," and I almost cried thinking about my dad and me a million years ago working on his '51 flatty.
Out there with the broken glass and the leaking crankcases and transmissions and the occasional snake and weeds and the boy I had one of the best days of my life.
I think boys need junkyards as much as old men do.