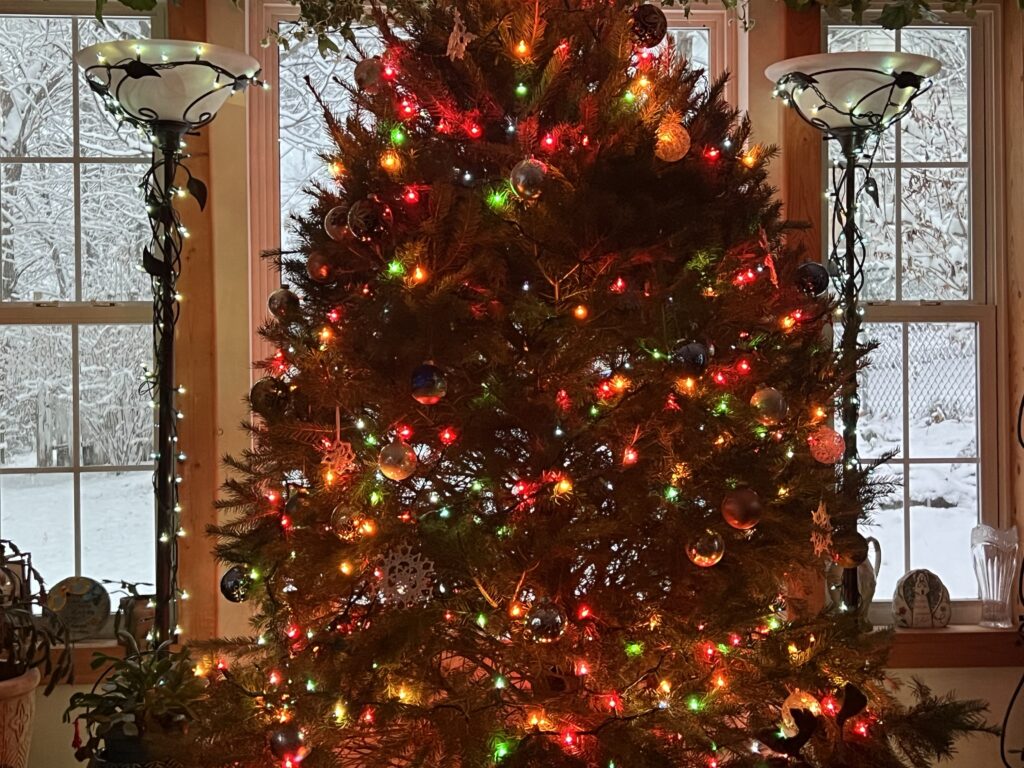 Dear Christmas,
Two weeks into all this noise, and to be truthful, the decorations and stuff are bugging me. Clutter pisses me off and distracts me. It's all looking ratty. I do like the lights, but that's about it. If it was up to me, we could put up lights in October and leave them up until the sun comes back, but the rest of this I can do without.
Speaking of lights, what's with these series style lights that die on the tree when it's just one damn bulb that burns out? It's almost 2023 for Christ's sake. In 1958, with my dad and his sets of ten lights apiece, it was fun and amusing to watch him find the bad bulb; these big cheap sets with one or two hundred lights each is just a pain in the ass.
Gift shopping is just an absurdity. Does anyone actually shop anymore, or do they just click and ship? All year long, I buy shit. I've got crap I'll never use up or wear out. I don't need anything except car parts. If you want to buy me a gift, I know a great pick and pull junkyard. Otherwise, please click and ship to someone else.
The baby kitten is adorable, but she's Hell-bent on tearing down any trees and decorations. It's like her mission. I'm thinking of knocking all this stuff down and letting her have a little party. The older kitten, Tilly, has never seen you either. Tilly is as good as the baby kitten, Ethyl, is bad. Yes, Ethyl and Tilly. I think you need to be over fifty to get the side-splitting humor in that. At the very least you must have spent days home from school sick, on the couch, watching I Love Lucy reruns. Do they still run I Love Lucy? They should. Lucy was hilarious.
The best part of you used to be back at the lake. The big kids would collect all of your trees and drag them over the ice to this tiny island in the middle of the frozen swamp. Then we'd have a blazing bonfire where we'd all get drunk on whisky stolen from our parents and the boys would coerce the girls off into the woods and try to get laid. I'm sure I know some people, who are now in their fifties who were a direct result of the Great Silver Lake Post Christmas Bonfires. So, thinking about it, my favorite part of you was always watching your trees turn to sparks and head for the sky. And the next day when the great conflagration was over and all that remained was torched and blackened branches.
Everyone, literally everyone has Covid, the flu or RSV this year. Going to a party is risking your life. Even the grandboy is sick and I miss him bad, so pretty much bite me, Christmas.
Imagine if we took all the money and time and effort, we spent on tchotchke that will be lost, broken or forgotten by the Wednesday after Christmas and sent that to Saint Jude's Children's Hospital so they could fight cancer in kids or food pantries so the seventeen million children in this country who go to bed hungry every night went to sleep with full bellies.
Oh, and something about Jesus, but the significance of him and this season is somehow lost on me.
My daughter is right. I am like old man Potter in It's A Wonderful Life, but truthfully, as this world gets more complex and confusing every day, The Christmas Season totally baffles me.
Love, Bill