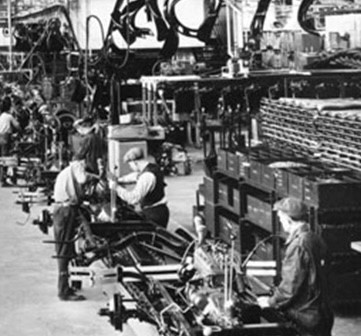 Grime is the first word for the place. A small city whose best days were cast in the sooty sunshine of the late American industrial age. As those days faded and closed, the city lived on, diminished and smaller. Violent crime came home from the second big war to add color to the grime.
The factories were hard and cold in the wretched cold of winter, and in the summer too hot for breath. They provided a life for the men who manned their machines. Lives lived for quitting-time whistles and beer. Some of the men were strong like horses and some were weak as lambs. The factory ate the lamb-men alive.
Five in the morning came god-fuck-you early every day to the men who pulled the levers and drank the beer. They drank coffee from paper cups and stood in line to punch a clock as the sun rose and they talked about baseball and getting the fuck out while they could. After a few years, the lever and the bales and the hot and the cold and the beer and the coffee in paper cups made them as hard and as violent as the loud and deadly machines. Most and many knew their chance to escape had passed.
The schoolboy sons pulled hubcaps off the factory daddy's old sedans and went to street racing and driving endless miles encircling the grimy town, running greaser laps. Wasting their time, unaware that the fragile vessel that held together their youth, was cracking.
Then, one day before anyone saw it coming, and faced with the decision to the leave the grimy city forever or go into the factory and slowly die, some, too many, chose the latter and boyhood died on the wet and greasy and cold concrete floor. They took their stand before the machines that only did one thing.
The rebellious young greaser boys walked up to the line and drank the coffee from paper cups, punched the clock and went inside and died in that hot and cold and loud and ugly place. To a man they fell to broken and old men, denied any life but the life pulling the lever and pushing the bail provides.
The factory never told a life's story, it told a ghost's story.