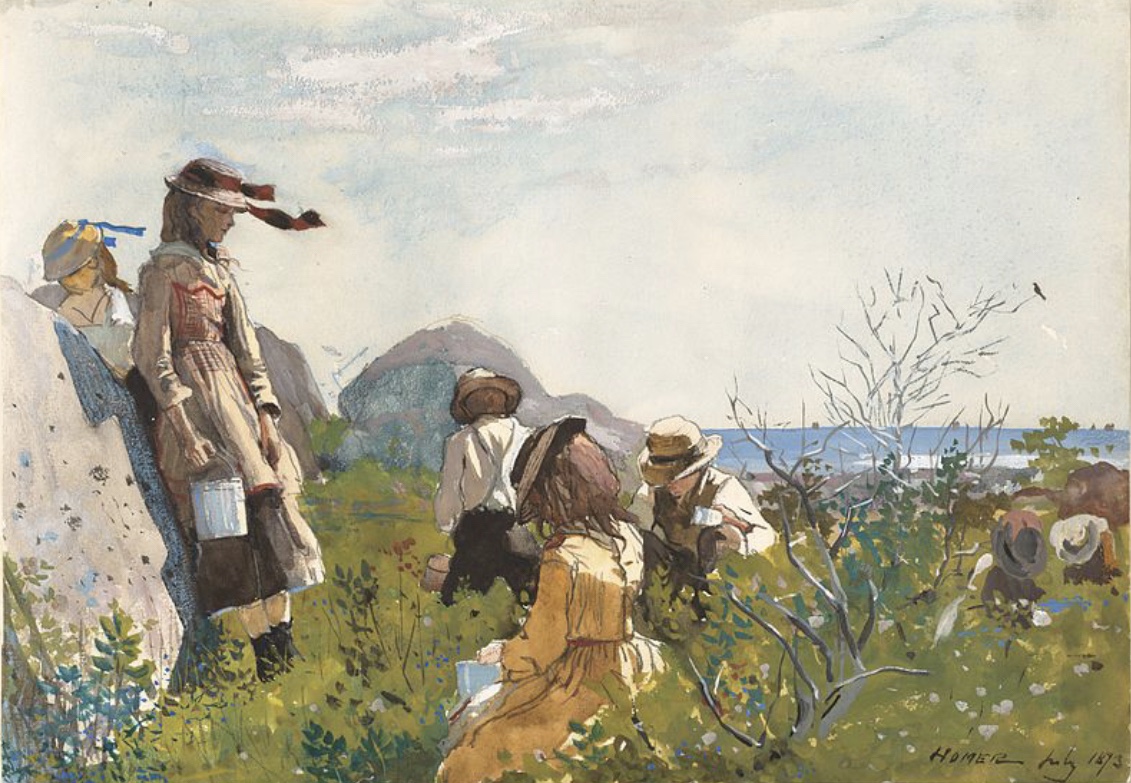 Staring at my grandfather, holding my tongue; I need to drink in this hot July. I need to stop and taste each drop of sweat. I need to feel my skin burn crisp in the hot-high sun. I need the July-burning wind, raging maple's leaves upturned betraying the coming storm. It's ninety-six degrees at sunrise, it'll be hundred and four by noon.
Now immersed in the day I walk with the old man out to the edge of the parched and cracking fields of wild berry bushes.
From our vantage point, huddled amongst a massive white stone outcropping, passing a bottle of his blueberry tinged moonshine, we watched the young girls working, picking and talking softly, bending over in their light cotton dresses, a field of pastels against the cloudless blue sky and green of the knee-high bushes.
Looking close, I see the salty-sweet droplets of sweat running rivulets of mud on their skin, and the wet red and blue and yellow bandanas, a feeble, but well meaning defense against the fire in the azure above their heads.
Jimmy B. turned to me, taking the bottle and a long drink he spoke softly—uncharacteristicly softly—saying, "it's been a hagridden life boy. The whores, the wives, the good church ladies, your grandma; ain't no cure, boy. Just a hagridden life. All of it, all you heard and read, all the stories and the lies, the bigger the story, the more I lied to make it a bigger lie. It was all fer that and nothin' else but that and nothin' more." He raised his arm and pointed away across the field with the now near empty bottle and the pretty young girls.
"That dead man, down outside town, the one who got runned over by that train. I know'd you heard about it from yer grandma. Me and one of them town boys, we found him there, all cut in two, a bloody goddamn mess. I think he fell out the train drunk and get his ass tangled up in the wheels. He had over a hundred dollars in his purse. Me and the boy, we had a hell of time gettin' that purse, and he had a gold watch too, and a couple rings. It wasn't easy work, he was pretty goddamn gruesome, all mangled and bloody and bone stickin' out. You ever try to pry a ring of a dead man fingers? It's goddamn gruesome work."
"Jesus, anyone think they was easy work? I reckoned he was never using the hundred dollars again and his time for usein' that watch had sure as Hell long passed. It was hard work and he'd started to smell a might, What with all the heat coming off that gravel they use to lay down the railroad ties."
"I come home and I'm feelin' like a rich man, with my fifty dollars, my cut of the work, and the gold watch. The town boy couldn't tell time good, so's it wasn't much good to him. He kept the rings. So I come home and I'm happy and proud and I shows yer grandma and she starts hollering and screaming and saying shit like I desecrated the dead, and I'm yelling back I didn't desecrate no-damn-body, I just stole his money and stuff."
"But she went runnin on down off the mountain and said she was going to report me for desecratin' and I had to go hide my half the loot."
"Pussy-whipped and hagridden. Story my whole goddamn life."
"I'm not sayin' it ain't been fun, some, the preachin' and the healin' and the all the money. But now it's all seems to be catchin' up and they askin' a lot of goddamn questions, not about that dead guy. That's old news, no they's asking about my preachin' business and taxes and such, and I stand here, with a good drunk on before noon, and I look out across this field, and I think I could'a figured out a better way."