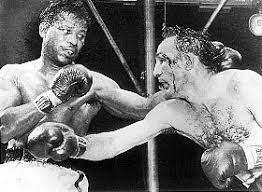 I never saw the movie, not once. Didn't need to see a movie about it.
I love the sport, always have. Always will.
I had no interest in watching a movie about the sport. There have been so many movies about it. Not one ever showed me any understanding of "it".
It was never about drama or rage.
It was about the fight.
LaMotta spoke, not in so many words, of his ability to transcend pain. He said he never felt pain in the ring.
To these guys, pain was a bodily function, like breathing and pissing. That is all it was.
Transcendental meditation with blood and broken ribs and hands…
I get that. I always got that. I've always been grateful to these guys for that.
Jimmy Braddock, Jake LaMotta, Joe Lewis, The Greatest – Mohammad Ali.
These men were bigger than any movie, bigger than pain, bigger than fear.
These guys all had one thing we all have, but they owned it. They wore it on the outside. They wore it loud!
Jake Lamotta's best fights were over Long before I was born. Jimmy Braddock too. Joe Lewis too. But, the legend was passed down to me.
Uncles and men who loved the sport and who would fight you. Farm boys who took no shit.
Braddock vs Baer
LaMotta vs Sugar Ray Robinson
Lewis vs everyone. He retired with 53 wins – 3 losses
Ali vs Sonny Liston and Frazier and Forman
The rope a dope
The beautiful, fucking, absolutely-perfect rope-a-dope.
LaMotta was never knocked down.
Jimmy Braddock fighting to feed his kids. Scared shitless of Max Baer killing him.
Killing him.
Killing him.
Lamotta's nose, how many times was that thing broken? Blood running down his face, the fight continued so many times.
Blood don't matter.
You could not take Jake down.
The night Robinson knocked LaMotta to his knees, he was only staggered; he got right back up.
It was news he was staggered.
It was big news.
Every time one of these guys die we lose something that will never come back.
People tell me boxing is a cruel sport, something that has no place in the twenty-first century. I hear it a lot.
I walk away from these conversations thinking they are right – but sad for them.
Men like Braddock and LaMotta and Lewis and Ali have no place in this world. They could not be broken. They could not be taken down.
In a world of participation trophies, and perpetually hurt feelings and bullies – men like this have no place.
We had bullies. We fought them. If you got your ass kicked, you went back to school and fought him the next day. You might get your ass beat at home for not standing up.
We were not afraid to stand up. That's a lie, we were scared to death, but we were more afraid of not standing up.
I cried when Ali died last year. I cried for something gone forever I could never define. I mourned its loss. The loss of the thing.
The last of that "thing" died yesterday with Jake.