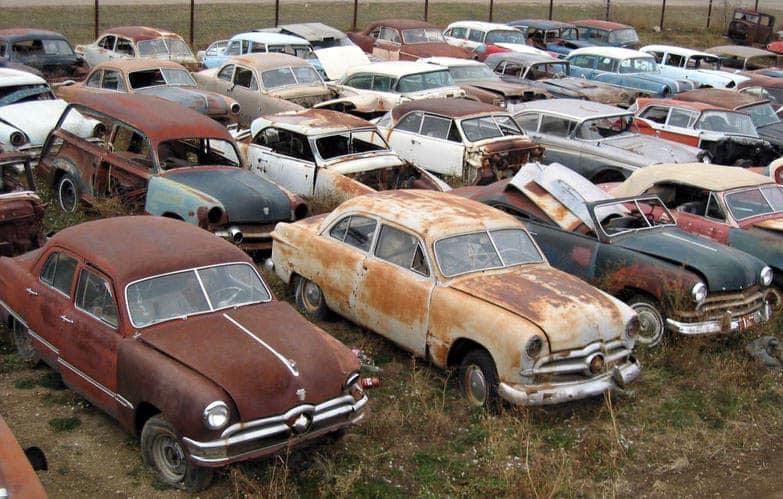 It's been the same dream since my first dream. A prairie somewhere, level as glass for miles in any direction. In an ocean of switchgrass sits a junkyard and a teepee and a '51 Shoebox flathead Ford.
It's not a shiny black Ford, with chrome glistening in some summer's sun. The body is rust-pitted and the windows are broken and the guts of the interior have been ripped out. The flatty V8 robbed of easily assessable parts. A testament to the violence of age and the passage of years.
My father was certifiable about certian things, many things. He bought a lawn mower from Sears one time. His first gasoline powered mower. One of those pre-historic rotary mowers. The thing would start but not run. The better part of the summer of 1964 he was at war with Sears. They wanted to send him a new mower, my dad wanted his mower fixed.
One day, I guess I was seven, I decided to fix it myself. I wasn't far into it when he came home. I doubt I had more than a few screws removed from the engine cover. My mom expected he'd be mad I was messing with his tools. His reaction was, looking at her and pointing at me and the mower, "He's right, it's time we fix this damn thing."
We found it was a bad head gasket, well he did. I just watched and lost parts for him. That day I learned the beauty of the art of figuring stuff out and fixing things.
I think about that day and some imagined obligation I now feel to find and fix a lost and forsaken '51 flatty and make it whole and take it with me to some imaginary prairie somewhere and let some wind cool us and the teepee keep us dry and warm.
I've never been much on heaven and hell, but I hope where my damaged soul ends up it involves old junkers and greaser's ghosts and hammers and wrenches, and the sound of swearing over bloody knuckles lilting over some grassland savanna.