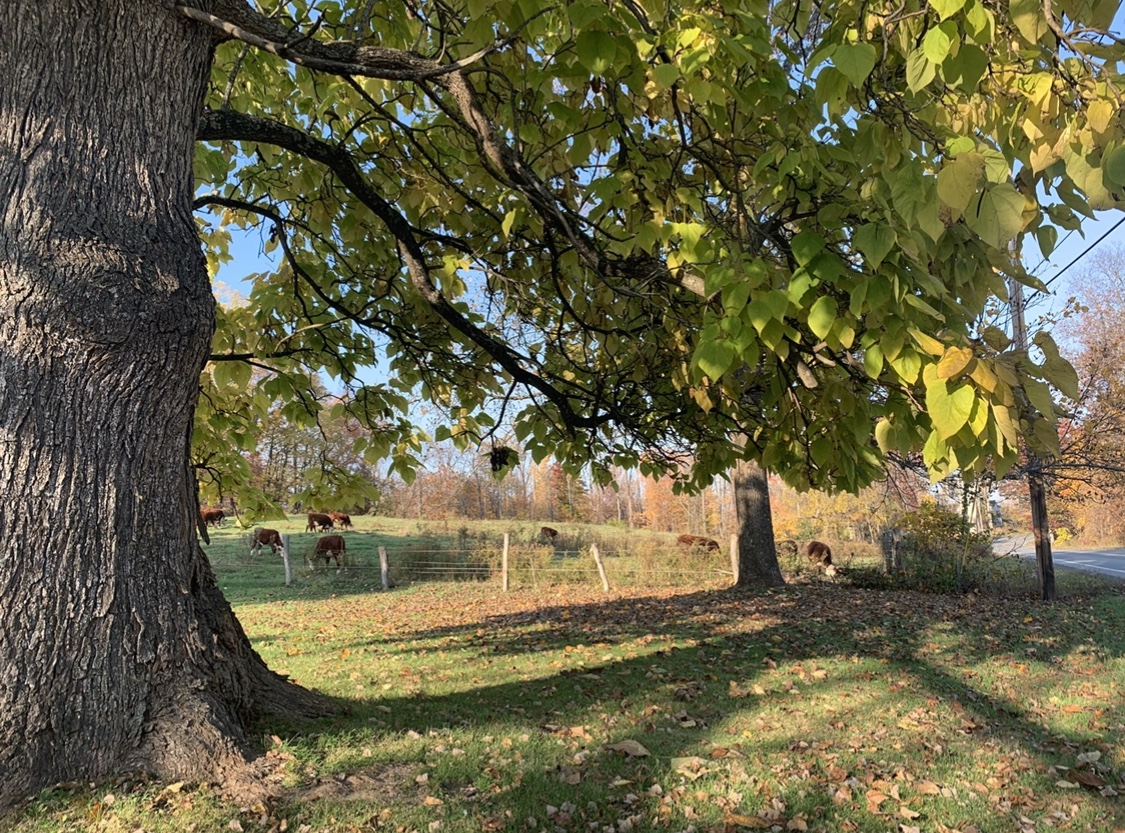 It's always early July when it comes. I suppose by then your stuff has grown enough to count for something. May's grass is now high enough to cut for hay and corn is coming in about knee high and rhubarb, that beastly sour shit, is sprouting big wide poisonous green leaves. I never saw the point in eating something that's leaves could kill you and was so bitter to the mouth you had to dilute it with sugar and strawberries so's you'd not gag trying to swallow it.
July comes and nothing is ugly like February anymore. Those dark days, home, and going to school and the days off the farm are just a bad dream to be forgotten until that cold September starts to whip in from the north again. But by then the squash will be ready and pumpkins orange and round and resting on their dying vines and it will be a time to go hide away and eat the last of your fat red tomatoes barely hanging by the stem. We'll pick them and eat them in the shed with the secret saltshaker and we will taste the last fruits of your July before the orange and blue pretty days of October betray the ugliness that's waiting next and summer is gone again.
It's always early July when my mouth is dry for the cold water from your spring fed well, with the thick mossy flavor and the slight rusty taste of the pail. And the rope on the pail is wet, not frozen. Drunk on the water from deep inside the earth, I fall asleep to the sound of a whippoorwill and wake to the scream of cicadas. The best days are the days that start with sweat, when the air is eighty-five before the sun is high.
It's always early July when I can smell your barn for a mile up the road. The grassy-sweet smell of cow shit and Queen Anne's lace line the fields.
It was early one July when I first saw the rubble and settled dust and splintered wood of your barn as it had fallen onto itself without the grace or dignity befitting such a place. A place where every child labor law written in the past hundred years was happily ignored with joyous noise and laughter and sweat and cuts that stung but didn't hurt. And payment was large glasses of iced coffee with milk and sugar under your bean tree and a breeze off the Shawangunk ridge.
Some days in early July I close my eyes and dream of you and the words don't come, they boil and stew and they cut at my gut, but they don't come. I want to lie in your hot green weeds and clean your shitty barn one more time, so bad that some moments the tears come, but I don't let them flow.
I can't bring myself to drive down your road ever again. I'm pretty sure if I see what the bulldozers have done to you it will kill me and to be truthful, the only place I ever found worthy of dying was in one of your meadows in the full noonday sun.