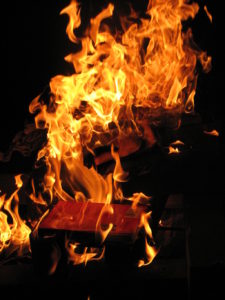 Settling in and enjoying the heady aroma of my book burning in the fire pit, I remember I have to call Rob. You know Rob by now, the guy with the sound advice. The guy who actually helps me and wants me to succeed? The guy who's advice I finally decided to take? I call him, the conversation goes like this:
Rob: "How's the book coming?"
Me: "Firepit, I think I see page 278 going up now. That was a good page, I'm gonna miss it."
Rob: "Why don't you calm down and let us edit it."
Me: "Well, I have no friends left, even the Christmas card list is wiped out. My Facebook friend list is down to some guy in China who doesn't speak English. He likes my book. I can tell. He sends me smiley faces and comments on my posts with, 'LOL.'  I asked if he'd help me edit it. He said, 'LOL :)' So, I have to see how he makes our first, but after that maybe I will.
Rob: "Send me your book."
So, finally I do. I send it to Rob. I finally realize he is my friend. Suddenly things are looking up. My friends list has doubled now, Rob and the Chinese guy. I'm feeling these surges of positivity and belief in this project again.
I wait about three weeks and my book is back with about 50,000 editor's comments and suggested corrections. I get through about 47,000 corrections without this lady telling me to focus my energy on grocery lists.
Things are really looking up. With these corrections my book will finally, after all this time, absolutely perfect. I love the work this editor has done for me. I no longer feel like the project should be cinders and ash.
My days are now passing with pleasing images of my book flying off the shelves at Amazon and Barnes & Noble and all the other booksellers around the world. I'm thinking numerous translations, audio books. I'm seeing Jimmy Stewart and Donna Reed, in the movie, "Its a Wonderful Life" giving away copies of my book as Christmas presents to all the residents of Whoville…  I may have my Christmas stories fucked up, but who cares? The great American novel is back on track.
I sit down in my back yard and again plot out where to bury all the money.
Life is good…
I call Rob, I'm all excited, the 50,000 edits are done. My book is perfect. It's ready to publish. It is early June, I'm sure it will be the hit of the summer reading season.
Rob says, "I want you to meet this woman, Sheri. She is very smart, knows all about marketing.  She'll be a great help to you."
Cool right?
I send this Shari woman what is – has to be – the final draft and we agree to a phone conversation.
First conversation:
Shari: "Who is your favorite author?"
Me: "Oh, easy question, John Steinbeck, by far."
Shari: "I hate him…"
Me: "Oh, want me to just hang up?"
Shari: "No, I want to talk about your book, looks like an interesting early draft."
Me: "I need poison… I have to go."
That's pretty much exactly how it went. Then it got worse.
Shari: "I think there may be a glimmer of potential in your draft, let me read it and make some suggestions."
So she reads it, I wait a week. It came back. I start reading her suggestions and comments. Comments like:
"Are you illiterate?"
"What did you do during sixth grade English class? What about grammar?"
"Have you considered a ghost writer? What about starting over?"
"Do you know how to drive a truck, you know, just for backup?"
I think back longingly to the good old days with Doug/Dave. I feel pangs of loneliness, Doug/Dave was crazy, but he wasn't brutally honest. If I wanted brutally honest I would have showed this to someone other than my mom, who said, "Nice try, dear, but there are a lot of typos."
I sit in a dark closet a lot, wrapping myself up in my arms, lying in the fetal position.
After a week in the dark I look at some of Shari's suggestions. At first I'm thinking, "This woman is insane!" About an hour later sunlight breaks through. She is trying to make my book better. She is trying to help me. Going way above and beyond anything we agreed to. I send her edits back to Rob, who is still actually still speaking to me, after seventeen revisions. He agrees, he sees a huge improvement.
Rob and I decide to have another editor read through it, after applying Shari's edits… Draft eighteen.
People ask me on the street, "What's up with your book?" I just say, "Oh that? No, that was a typo on FaceBook. It was supposed to say, "I'm learning to cook, not writing a book." And I walk away, whimpering.
I get Robs edits back. This is it!!! Final draft. We will be published by August first. Today is August fourth…
I call Shari, we have a new plan.  I'm going to read and approve Rob's edits and then print all 418 pages again and then, at Shari's suggestion, read it out loud. Then that will be IT! Then it is on to publishing, right Shari?
She doesn't hear me. I just hear howls of laughter coming from the phone. I hear her say something to someone about Christmas 2020, I start screaming back in the phone, "What the fuck about Christmas 2020?"
Silence, then more laughter. I turn off all the lights and start hugging myself again…