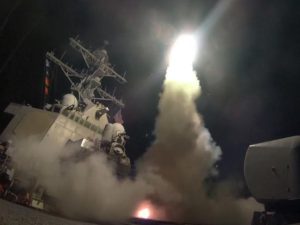 This whole Syria bombing thing had me thinking all day about the barroom days.
There was this guy, I fought him a lot, his name was Carlos, a real asshole. He was a drug dealer, heroin. He raped at least two women. I hated him.
One night, a girl from the bar was robbed and beaten, beaten bad, she ended up in the hospital.
We heard about all this at the bar. My friend Keith came up to me and told me he knew the guy who did this to the girl, her name was Liz. Liz was everyone's friend. A sweet girl. She deserved none of this.
As we sat at the bar and drank it became very apparent to Keith and I were going out and find the guy who hurt Liz and fuck him up. Liz may have been Keith's girlfriend at the time. Too many years have passed to remember or care.
Keith and I got up from the bar to leave and Carlos, the asshole, followed. I asked him why he was following us. He said, "Liz is my friend too."
My point is simple. Even the biggest asshole you know, occasionally, finds his courage and does the right thing. All that means is that at one moment, on one day he rose above himself and did the right thing. It doesn't make him any less an asshole.
Quick update since the attack…
You missed, asshole, nice $110,000,000 dog and pony show. We ain't buying it…
yeah, no…