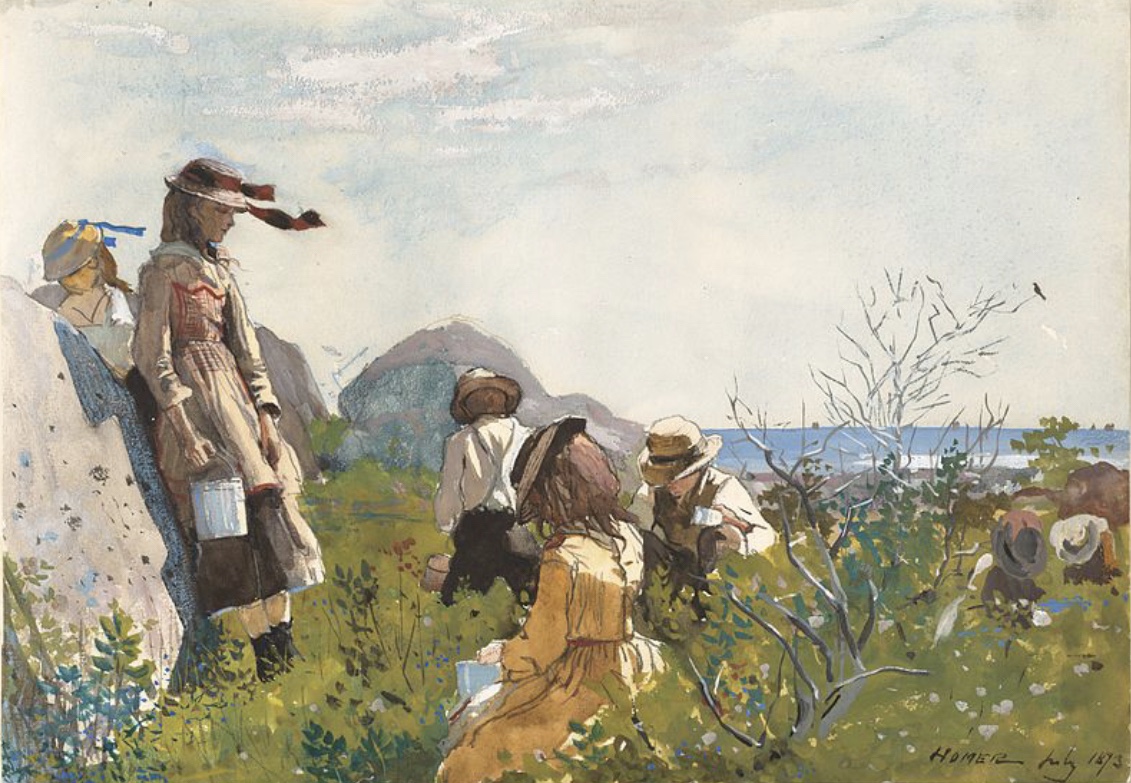 The Berry Pickers – Chapter 1
"Then all these people started coming at me and asking me what happens when you die. Men, women, young and old."
"I reckon they figured because I was damn near kill't in the war that I'd become some kind of expert in dyin' and the hereafter. That ain't true in it's entirety…"
"Truth be told, I kind of exaggerated my time in the war a might. I don't know shit about neither, but I realized quick there was money in havin' an answer to that question, even if I had to make it up as I was talkin' and preachin'."
Years later some of the people called me a con-man and a grifter. I found that vulgar and plain unfriendly."
"A man, got to make a livin', don't he?"
– Reverend Jimmy B. Tester.
The Fire
Every twenty years, or thereabouts, a fire rages along the ridge. Huge dancing pillars of orange and red-miles long and touching the sky-burning everything in its path.
The sap filled dwarf pines, unique to this small mountain range, explode and the small forests of birch and maple and expansive fields of ferns and wildflowers are all burned to a thick black pitch. Even the dust of the fields and the dirt of the roads is burned black as night and changed.
Everything is burned dead.
The fires never touch the old berry pickers shacks. The years and rains and snows and eighty summer's suns have done what the ridge fires never could.
All that remains now are the burned-out shells of the tiny homes. The yards, wildly overgrown, are littered with ancient hand-operated washing machines and cracked toilets, and discarded sinks with young sapling trees growing out through the drain holes.
On the standing wall of the building nearest the dirt road you can make out the fake brick tarpaper that adorned this shack.
A very old man slowly walks up near me on the dirt path. Gray, but still a full head of hair, a scruff covered face, not so much a beard as a protest against shaving. Bone skinny in a dirty white t-shirt and filthy brown work pants.
He appears to be the one, perhaps the only one who cares for this place, this abandoned and forsaken spot in the woods. I ask him what happened to the people who lived here so many years ago.
He takes an old, dirty rag from the front pocket of his well-worn work jeans. With it, he wipes the sweat and road grime from the back of his neck.
He speaks in a weak and wispy voice.
"The first signs of life after the fire are the berry bushes. They come back quick. Almost, it seems, as soon as the fire is out, they start poking their branches back out of the blackened dirt."
Continuing, "I've lived through five or six of these cycles now, boy. Not a lot has changed on this mountain. Through the decades the news hasn't changed, it's always the same. The pictures are clearer now and in fancy colors and there seems to be more of it, but it's all the same. Some guy stabs another guy for being with his woman. Someone steals something. Some politician gets caught in a lie. Somebody gets arrested, somebody goes free."
"The mountain is quieter now. I don't think a lot of people alive today would care about all that commotion back in the day. We was runners, makin' shine, the whole family, all our kin. Big business during prohibition. I heard all the stories. We was some mean-ass crazy bastards. It was all about runnin' shine, robbin' banks and horse thieving, and preachin'. Good Lord, them folks loved to be preached at."
"Everyone said they'd hang you for horse thievin' but that's a lie, an old wives' tale. We'd steal 'em and when things were real tight, we'd eat 'em. Times was tough back then. A stole horse would feed a family of six to eight for the entire winter. Wasn't so bad, the eatin', you just had to get your mind wrapped around it was all."
"Yer daddy, boy, he never fit in, always thought himself above all us. Truth be know'd he was a big pussy. He left the mountain early. Never came back. I'm not sure how he ended up way all across the country in California, I'm glad he did. Good riddance."
The old man hacked like he was drawing up a lung, spit out a huge wad of snot, wipes his mouth with the same sweaty and grime covered rag he used wipe his neck and continues: "So why are you back here asking questions, poking around the old family grounds. What, are you a cop? I cain't recall I ever met you, but you tell me yer kin? My family is dead. Dead and buried, some up here on this ridge. I owe you nothing you owe me nothing."
Finally, I am allowed to speak, "I'm here looking for a story. The story in these hills, the story of my great-grandfather and the berry pickers. I'm a writer, I tell stories."
The old man, half crazed walks up to me, pushes me in the chest with both hands. "I shoulda know'd, ya was goddamn pussy, like yer daddy. There ain't no story to be told here. None of anyone's goddamn business anyways!"
"I'm going back to ma' cabin and if yer still here when I get back I'm going ta' load up yer ass with buckshot. Get the Hell off my mountain!"
With that the old man I'd never before spoken to, corresponding only by mail, and met here just minutes ago for the first time in my life, was even more a mystery to me than the story of my family. A story that had eluded me all my life and one that I figured now, sadly, would remain forever a secret.
I'd come back east to this small mountain range in what is called the Southern Tier of New York to investigate the myths and stories I'd half-heard since boyhood.
To some this area, this range they called The Gunks, short for Shawangunk Mountains is the mystery itself. For decades, many years preceding even my great-grandfathers time, this range has been the home and source of endless lore. From ghost stories and brutal hauntings to stories of flying saucers to witchcraft and black magic.
That is the story I came east to find. The truth behind my family's myths, lies and concoctions.
I look up the road. The old man has stopped in the center of the narrow dirt trail. He's kicking up dirt with his shoes, creating a cloud of brown dust so thick it, for a moment, it obscures the wildflowers and grasses of the fields that line this rutted path. I can see the cloudless blue sky of this perfect summer's day becoming obscured by the cloud created by the tantrum of this old man, quite crazed, hands in his pockets, kicking the ground and swearing, as if he's doing some ritual dance or he's quite possessed.
Taking his hands from his pockets he raises them to the air and screams! I hear, "OK-OK-OK!" echo off the surrounding hills.
He turns and walks back to me. His face red and covered with sweat and even more road grime.
"Stay here, boy. I'll be back by nightfall. Grab yer gear and meet me there," he says pointing to the one cabin still standing that seems to have what could pass for a roof. He turns and now calmly walks away, looking back he says, "Meet me right there. Don't make me come lookin' for you."
I made a camp for myself inside the collapsing shack. I waited as the sun set for the return of the crazed old man. Finding myself in complete darkness, no moon and a haze over the stars I waited. I heard the howling of coyotes off in the distance. None of this set well with me, the city boy from L.A.. Off in the trees I'd hear the screeches of an owl. I feel a chill run down my spine. I realized I was here for the night, if he came back or not. In this dark I'd never make it back down this hill to my car.
I began to doubt myself. I began to hate this place and the crazy old bastard I'd come to interview. Another hour passed and my fears were replaced with anger.
Suddenly out on the dirt road I heard a cackle of laughter. Then I saw a flashlight. I knew it was the crazy old man.
"Did it scare ya boy? Sittin' here listening must about made a city pussy like you shit yer pants," and he laughed some more.
He handed me a paper bag. In the dim light I could see It it contained a sandwich of some sort, wrapped in a dirty, smelly rag and a refilled bottle of water, the label long gone. There were bits of something, maybe leaves or dirt floating in it. I was torn between the nausea in my gut from the thought of consuming this offering and my hunger and thirst, having been up here on this mountain since late morning.
I looked back at him, trying to find his eyes, "Horse meat?"
"Nah, bologna and cheese," he almost smiled. "I ain't killed a horse in 50 or 60 years, I recon."
"Go on and eat, Jesus you are a pussy!"
My hunger and thirst won out over my desire for self-preservation and common sense. I doubted my wisdom and any sense I had for coming to this place in the first place.
While I ate the slimy sandwich and drank the dirty water the old man took away the light and foraged for twigs and sticks.
Upon his return he set about building a fire. I had to admit he was rather masterful. Building a small teepee over a pile of twigs, then laying heavier and thicker branches on top of each other. He lit the creation with a single match. Bending down, his cheek to the ground he blew his breath slowly at the base until he had a small inferno roaring and snapping.
"So, boy, your father, where is he?"
"Dead," I stared into the fire. "He died of a heart attack at 51."
"Pussy," the old man hissed as he wiped sweat off his face with that same greasy rag he'd used earlier that day.
"Yer grandpa, I know he's dead, I buried him myself. He was a good boy, I thought he'd carry on after me, but he was more a follower than a leader. I've carried all this on me. Now I'm all that left. I'm like these old rotten shacks. Just rotted away…"
I looked at the old man in shock. "Wait a minute. You are my grandfather. You said so in the letter!"
"Nah, boy, I was hoping you'd never make the trip. I didn't want to waste my breath having to explain a bunch of horse-shit to some California pussy, so I lied."
I stood up, I'd had about enough of this crazy old man, he's threats, his food that would probably kill me. I wanted off this damn hill and my car and a plane back to the west coast. Realizing this entire trip was a complete waste of my time.
"Sit down, boy! You wanted a story and I decided to give it to you."
Still standing I replied," Who the Hell are you, you crazy old bastard. Some uncle, or some old friend of the family?"
"SIT DOWN BOY!" He roared in a voice that startled me. "Sit down, and shut up. I decided to tell you and I'm going to tell you. We are going to sit here tonight and drink and get to know each other. Tomorrow in the light I'll take you back my cabin and you'll get yer story."
I sat down.
He handed me a bottle, a very old bottle of what was labeled bourbon. With an almost smile and a glimmer of pride he said to me, "Shine Boy, made it myself. I'm still makin' the best shine in these hills. Ain't much or no business in it anymore. Now it's all legal again, but this stuff will cure what ails you, you can count on that!"
I took a long swig from the bottle, I was hoping the alcohol would kill anything I'd caught from the dirty water bottle and that disgusting sandwich.
My throat was on fire. Like I'd swallowed hot glass. I tried to catch my breath. In a complete panic I thought the old man had poisoned me. I could not breathe, even though my mouth. I started to shake, out of control. I stared at him from across the fire. Sitting on a flat rock across from me in the glow of the flames I thought for a moment I'd seen the face of Satan himself. He smiled at me for the first time.
Slowly, breath returned. My shaking stopped. The old man looked less evil, for the moment.
"Jesus, boy, that's 160-proof corn whiskey, hiding the fire with a touch of blueberry. Just like we made in these hills for years. Ya' don't just guzzle that. What's wrong with you!"
He takes the old bottle from my hand and takes a long drink. I watch somewhat amazed, maybe in awe…
The old man burps and grins at me, "Pussy!"
He stands and brushes some dirt from his pants. His bones creak and snap, as he walks away from the fire, and returns with a long stick, a branch. He begins to draw perplexing symbols in the dirt. I try to see them, to understand what they are in the dim light.
Without looking up he says, "Sit down, boy."
I can only reply, "I am sitting, and can we get this ritual of yours, or lesson, or whatever the Hell it is over with, I want to leave. Coming here was a mistake. Now I'm stranded here, in the dark, in some god forsaken woods with a crazy old bastard."
He sat silently continuing to draw shapes in the dirt.
"There ain't no easy way to say this boy, I'm just going to blurt it out. I'm your great-grandpa. I'm 120 years old this month. The next oldest I ever heard about was 124. Some old woman in India or some fucking place. I feel my time is coming. For that reason, I guess I'm glad you is here."
He told a long drag on the bottle of fire he handed me earlier. Maybe I was drunk, I hoped I was drunk.
"How can that possibly be?" I stared into his yellow tinged eyes. "You do look a bit like family, my father. My grandpa. Jesus, is this true? The stories are you are long dead, died a violent end, how can this be true?"
"Ain't no truth boy, truth is what you tell your mind you are willing to accept. Truth is bullshit. I staged my death. Hell, I staged my goddamn life. It was all a show. A grand show and all them simple sons-of-bitches, they lined up and threw money at me. I learned early on boy, after the big war, I learned to work the con. I know enough about you from our little time here on this hill today to own your simple ass. Your desire is your weakness and my way in. I find out what you want, deep down and I own you. At least that's how it was supposed to be, until that bitch ruined me. She took me down hard, boy. She was the grifter. She was the master at the con."
"That bitch?" I stammered, feeling more drunk than I realized. "You mean my great-grandma?"
"No boy, don't be a simple shit, your great-grandma was a sweet, old, cookie baking, apron wearing, church going, woman. A good woman and a solid woman. She deserved better than me. She wasn't the hag that ran me down. Your great-grandma was my home, while I ran with the hag."
He looked at me across the raging fire. I felt hot and cold and clammy. Maybe it was the corn whisky, but he changed before my eyes, looking gray and opaque, ghostly. He handed me the blue tinged bottle back at me directly through the flame. I felt the heat in the glass. His arm retreated right back through the fire.
"Boy, you want a story, I'll give you story, but for tonight let's get good and drunk, finish up this bottle and you will be. In the morning I'll take you down to my shack and I'll tell you all about what happened."
"Gods honest truth!"
The sun broke the darkness wide open, the light roared across the sky cracking wide the new day. I woke up to chirping birds, a cool mountain breeze and the most violent hangover of my life. I crawled on hands and knees over next to the old man. I touched his shoulder and he woke with a start, jumping to life. He dusted off his pants, pulled that same greasy, sweaty and grimy rag from his pocket, wiped his face, spit, blew his nose on the ground.
"Boy, ya want a story, I got one fer ya. Get off yer knees. Walk with me."
Somehow, I found my legs, managed to stand. I began to follow the crazy old man down the dirt path.
The Berry Pickers – Chapter 2
We walk about a half-mile on the rutted path, with a wide swath of weeds up the middle. With no warning I drop to my knees in that high grass and Queen Ann's Lace and Daisys and violently begin puking.
The old man shakes his head, disapprovingly. "Pussy! Goddamn, boy you can't hold yer booze."
That was the only conversation we had as we walked the couple of miles down the road through winding and rolling hills, the dwarf pines to our left and the acres of berry bushes to our right. The beauty of the morning was lost to me. My head wanted to explode and the urge to vomit again was constant. The old man, who claimed to be so old showed no signs at all. I could barely keep up his pace as we walked the hills in the fierce sunshine.
Literally out of the blue sky he began to speak, "I always hated that middle name, I don't know why I kept it. Beauregard, and the first name Jimmy. Who names they kid a nickname? Jimmy Beauregard Tester. It's like I was born to be a con."
"My mama, your great-great grandma, she was a true daughter of the Confederacy. A hate filled and mean woman. A vile racist woman. I moved north as fast and young as I could to escape her and my old man. Ran as fast as I could from that old Florida Cracker shack."
"Funny the first place I built here on this ridge looked like them ol' shacks. Not but a couple a small rooms and the shitter out back."
"A man come up here and asked me if I was a Cracker. I hit him cold between the eyes and he went way back, dizzy like and then down in the mud. I ain't no goddamn Cracker. I'm a lot of goddamn things, more not good than good, but I ain't no fucking Cracker."
Walking with this old man, holding my tongue, I'm confounded, I'm angry and hungover.
I need to absorb this hot July, and let the sun suck last night's poison from my veins. I need to stop and taste each drop of sweat. I need to feel my skin burn crisp in the hot high sun. I need the July-burning wind, raging maple's leaves upturned betraying the coming storm. It's ninety-six degrees at sunrise, it'll be hundred and four by noon.
Now immersed in the day I walk with the old man out to the edge of the parched and cracking fields of wild berry bushes.
From our vantage point, huddled amongst a massive white stone outcropping, passing another bottle of his blueberry tinged moonshine, we watched the young girls working, picking and talking softly, bending over in their light cotton dresses, a field of pastels against the cloudless blue sky and green of the knee-high bushes.
Looking in close, I see the salty-sweet droplets of sweat running rivulets of mud on their skin, and the wet red and blue and yellow bandanas, a feeble, but well-meaning defense against the fire in the azure above their heads.
Jimmy B. turned to me, taking the bottle and a long drink he spoke softly—uncharacteristically softly—saying, "it's been a hagridden life boy. The whores, the wives, the good church ladies, your grandma; ain't no cure, boy. Just a hagridden life. All of it, all you heard and read, all the stories and the lies, the bigger the story, the more I lied to make it a bigger lie. It was all fer that and nothin' else, but that and nothin' more." He raised his arm and pointed away across the field with the now near empty bottle and the pretty young girls.
"That dead man, down outside town, the one who got runned over by that train. I know'd you heard about it from yer great-grandma. Me and one of them town boys, we found him there, all cut in two, a bloody goddamn mess. I think he fell out the train drunk and get his ass tangled up in the wheels. He had over a hundred dollars in his purse. Me and the boy, we had a hell of time gettin' that purse, and he had a gold watch too, and a couple rings. It wasn't easy work, he was pretty goddamn gruesome, all mangled and bloody and bone stickin' out. You ever try to pry a ring of a dead man fingers? It's goddamn gruesome work."
"Jesus, anyone think that was easy work? I reckoned he was never using the hundred dollars again and his time for usein' that watch had sure as Hell long passed. It was hard work and he'd started to smell a might, What with all the heat coming off that gravel they use to lay down the railroad ties."
"I come home and I'm feelin' like a rich man, with my fifty dollars, my cut of the work, and the gold watch. The town boy couldn't tell time good, so's it wasn't much good to him. He kept the rings. So, I come home and I'm happy and proud and I shows yer great-grandma and she starts hollering and screaming and saying shit like I desecrated the dead, and I'm yelling back I didn't desecrate no-damn-body, I just stole his money and stuff."
"But she went runnin' on down off the mountain and said she was going to report me for desecratin' and I had to go hide my half the loot."
"Pussy-whipped and hagridden. Story my whole goddamn life."
"I'm not sayin' it ain't been fun, some, the preachin' and the healin' and the all the money. But now it's all seems to be catchin' up and they askin' a lot of goddamn questions, not about that dead guy. That's old news, no they's asking about my preachin' business and taxes and such, and I stand here, with a good drunk on before noon, and I look out across this field full of pussy, and I think I could'a figured out a better way."
Looking past the sweaty, glistening young girls, and past the horizon, past the ghostly outline of Storm King Mountain and the fiord it forms in the channel in the Hudson River, some thirty miles to the south; the old man is lost in his thoughts.
"The war," he started off on another tangent, "Was a funny thing. Ain't nothin' funny 'bout war. Not a goddamn thing, but the situation was funny. I was hagridden there too, figured I'd never get no pussy if I didn't go off to that goddamn war."
I looked at the crazy old man, my face must have betrayed my confusion. "Pussy, boy, the hagridden truth of all truth, what's the matter with you. You know it's the truth. We called it, 'sweet jelly roll,' better name fer it than pussy. I always thought It was a almost poetic way of sayin' it! I find myself I think me poet like, a lot."
I buried my face in my hands, still hungover, and getting drunk again, and he continued,
"The time the war come I'd lived my whole goddamn life up here on this mountain ridge. I didn't take to marchin' and bein' told how to shoot. Good Jesus, the food was bad."
"Two goddamn weeks on some ship, with seasick, pukin' son's a bitches, The whole damn ship stunk and everything was wet all the time, and when it got dark they'd turn off all the lights and turn off the radio. Radio silence they called it. I'd sneak up on the deck and light a smoke and hope them fucking Germans would see the lighter and kill me and get me off that boat. I reckoned it was a better way to die than in some goddamn trench in France. That was what we got to look forward to after half a month on the goddamn, stinking boat; some goddamn, German bastard wantin' to fucking kill you once you got to France. By the time I got back to solid-land and off that fucking boat I was done with war and bein' a soldier."
"That boat trip made me weigh the value, to me, of pussy, fer a time."
I raise my hands from my face and look at this crazy old man and take another long draw from the now half-gone bottle of moonshine. "So, tell me, what was your time in the war like?" I asked, hoping to catch him in a lie.
I knew well from my father, and his grandmother Ruth, that the actual Jimmy B. was a 'deserter' who managed to somehow spin his time away, until long after the war ended, into a web of lies that, upon his return home resulted in being paid his back-pay and a hero's welcome on the docks in New York City. My dad kept a yellowed and brittle clipping from the front page of the N.Y. Times—Long Lost Hero Returns Home!
"Boy, that boat landed in France and it wasn't a day later they had us standing shoulder to shoulder in some goddamn trench. If'n I thought the boat stunk, the mud and shit and piss stench of them trenches was more than I could stand. Jesus fuck, death was ever where. Bodies and death and them cold eyes staring back at you. I poked up my head the mornin' of the second day and I see'd this dead German staring back at me. I reached up and closed them eyes. Nothin' will freeze yer soul like starin' into the eyes of a dead man. Don't fuckin' matter, friend 'ner foe."
The old man paused, took a long drink of the blue moonshine, and was unusually quiet. This pause lasted about a full minute, then he continued.
"The entirety of France, that I could see from the hole I was hiding' in, looked bombed out. When I enlisted I saw some pitch'ers of France and it looked real purty. This place was either not France 'er France been some burned to Hell. I swear boy, if ya' was nuts enough to look up over the trench all ya' saw was bodies and holes in the fuckin' dirt and small fires. Smoke was everywhere, gas and diesel fires, and gun smoke from rifles and canons. The sky, way up, ya' could see was blue and a yella' sun, but we's down in Hell and all you saw was gray smoke and death."
"The day we got there, and they dragged us up to the line, they handed us these long-ass knifes and they called them some French name. The old man pauses, as if to impress me with his mastery of the language and slowly says, 'A bay-o-net.'"
"They showed us how to clamp them damn things on the end of the gun—I didn't have no buddies on that damn boat. I think by three days out most of them guys know'ed I'd just as soon jump ship and get 'et by a shark as go fight in that goddamn war—but this one boy, called hisself, 'Butchie,' I spoke to occasionally, he's a from New Jersey farmland in the north, he looks ta' me and says, looking right scared, 'what the fuck am I supposed to do with this?' A sergeant comes up from behind and shoves that boy to the ground and starts 'ta laughin' and says, you'll see soon enough! Sure as shit not a hour later shit starts heating up big, I'm a hidin' much as ya can hide in a fuckin' trench with a hundred other guys, and these crazy-ass German motherfuckers come a' running and screaming right up to the trench and guys is dying left and right of me and I raise up my gun to start shooting and I catch this big ol' German boy right in the nuts with my 'bay-o-net' (the old man still slowly emphasizing every syllable). I felt the entire weight of his body on my gun, and I throw'd his ass right across the trench to the other side, and his blood and piss runned down and on 'ta my face and a see'd Butchie, he went and figured out the bay-o-net too, and at that moment I decided clearly ain't no jelly-roll on the goddamn planet worth this!"
The old man takes another long drink. I look at him, I still see the terror of that war in him, his hand is shaking slightly as he hands me the bottle. Am I starting to get conned by this crazy old man? Am I starting to buy his story? He passes the bottle back, a new drunk is replacing the old hangover, and the old man continues…
"The constant flow of them German boys finally slowed and stopped. Then as if'in shit wasn't bad enough, and mind you, this was my second goddamn day ta' set foot on French dirt, the master sergeant yells, 'GAS', and me an' Butchie is scrambling to get them spook looking masks over our faces. I got mine on and went to help Butchie, but we got it all fucked up and next thing I know'd he was wretchin' an' pukin' and I know'd ain't a damn thing you can do fer gas and I turned and followed the others to over the edge and back off the line."
"We runned at a double time, and I tell you boy, my ass was damn near in the lead a running back, 'bout two miles we ran back to past the line where we all know'd we was safe. I set my ass down on a rock and I decided then and there my days as soldier had done come to a end. I didn't care if I had to shoot myself, I was done with that Hell.
As luck 'ed have it I met a British feller, by the name of Charles. I called him Charlie, but he preferred Charles. He'd been a big banker back in London. We set on a rock and smoked cigarettes and talked about life on my ridge, back home, and life in London and I told him I'd come here fer fear I'd never get no more jelly-roll if I didn't, and he looked confused until I explained what the jelly roll was, and he laughed. First time I'd laughed since I got on that damn boat, and he said his daddy was a big hero or some shit down there ta' Africa in some other war I ain't never heard tell of, and anyway Charlie said his daddy made him come here and we both agreed his daddy's bank, 'ner all the jelly roll on this earth was not worth going back up to then goddamn trenches again."
"Charlie says to me, 'Jimmy, I'm working on a plan. It's dangerous and we'll probably die, but it will keep us out of those trenches, if you want in I can get you in!' and I didn't even think. Nothin' not a goddamn thing on this earth could possibly be worse than ever goin' down ta them trenches again. Beside, since I got on the boat I'd been thinkin' more and more about going down suicide, and I figure'd whatever Charlie had in mind had ta be better than what I'd been thinkin',besides, maybe I'd get a medal fer dying and they'd send it back home to the ridge and all the girls up there'd wish they'd been a little friendlier to ol' Jimmy was he was in his need."
Jimmy B. paused again and took another drink, reached in his shirt pocket and pulled out a pack of of Camel cigarettes. I had to ask, "Jimmy you tell me you are, what, one-hundred and twenty, don't you think maybe you should lay off the smokes and all the moonshine?"
Jimmy looked at me angry and confused. "I AM that old, it don't seem ta matter boy, did ya ever think maybe I'd not mind dyin', but it don't seem ta come."
"Anyways, boy, back to the war. Charley, he tells me him and his lieutenant and small crew of men—and they wasn't gettin' no volunteers from them English 'ner American boys—was going to march about thirty miles to the south, thick into enemy territory. Them Germans had themself's a airfield there, them new fangled areo-planes and we had to go blow up the fucker. We had to hit the fuel stores. They's afraid if we don't take them out they's gonna drop goddamn bombs on us boys and make this shit in the trenches even worst."
"Charley says to me he got no plans to be no hero. His plan was to get to the south of France and hide the fuck out. We both figured the way boys was killin' each other in them trenches the war couldn't go on much longer than another year. All the boys—both sides—would be dead."
My head hurts. I'm now very drunk on the blue moonshine. This crazy old man, whoever he really was, didn't seem phased at all. His story was convincing, it did sound to me like he'd been in that war. To be even sixteen years old in 1917, would make him at least one-hundred-nineteen years old. Claiming to be my great-grandfather at one-hundred and twenty, or twenty-one…
I'm sure it's the home made fire-water. I'm sure tomorrow morning, sober, I'll sort all this nonsense out. The old man hands me the bottle back and starts to speak again…
"Anyways, The British Lieutenant and my Master Sergeant was workin' together on this top-secret mission. I think my sarge was a little surprised ta see my volunteering. I'd been actin' anything but the role of hero since my boots touched French dirt. Even on the boat most knew I'd considered jumpin' over the side. The sarge smiled, and patted me the shoulder, and said somethin' about bravery."
"Me and Lance Corporal Charlie had volunteered for the first scoutin' mission. We was set down, and showed a bunch of maps, Charlie took real good notes, acting real interested and whatnot. Lots of writin' and chiperin' with a paper and pencil and a compass. Then we was told to go get some food in our bellies and get some rest. We'd set out about 11pm."
"We was in separate tents, Charlie come up ta mine about 10:30pm and asked if I was ready. I was. We walked into the British Lieutenant's tent, shook his hand and together we ran as far away from them trenches as two men could possibly ever get on foot."
I'm truly baffled now… I couldn't even really find the words I needed to speak. Finally, I just blurt out, "So, Jimmy, are you telling me you were a deserter?"
The old man, whom I'm actually starting to believe, jumps to his feet and starts screaming at me! "You was not there, boy, ya' fucking California pussy, who the Hell ya' calling a deserter. Ya' wasn't in them goddamn trenches!" And he runs at me swinging punches and spitting, his bloodshot eyes on fire!
I blurt out, "No!" As his first punch connects with my nose, and manage to push him off me. He falls back on the sun-bakes dirt and I stand over him, feeling blood begin to run from my nose and down my face. He gets back on his feet and starts to come for me again. I step back and extend both my arms. "Jimmy-Grandpa, I believe you. That's all I meant. I believe your story. I can't explain it, but I believe you!"
He calms somewhat, stops to catch his breath. "A lot of people called me a deserter, boy. A lot did. I didn't desert nothin' except somebody's fucked up plan that included me dying fer no damn good reason. Me and Charlie walked out of that camp that night and was Hell gone and done with them trenches and that war was all. It wasn't an easy time on the run, but it was better than them trenches. Any-fucking-thing was better than them trenches. And call me, Jimmy. That's my name."
The sun was high up in the afternoon sky, I was good and drunk, Jimmy seemed to show now effects at all.
He tips the refilled bottle of blue moonshine straight up and into his mouth, taking the last corner. "I got no regrets, boy, not a one. A done what I needed to do. That ain't how you hear'd from my Ruthie, I'm sure. I did manage to piss her off rightly on occasion."
With that the old man leaned back against the white rock and closed his eyes, I crawled to find some shade and joined him in a nap.
The Berry Pickers – Chapter 3
Dosing in the hot sun, laid out in the dirt, my head against the big white rock, quite drunk I recall Jimmy's 'Ruthie."
I met her once, Jimmy B.'s wife, Ruth, my great-grandmother. I was very young, maybe the year was 1984, I'm pretty sure. I recall her poverty. She wore it almost as a badge of honor. When I think of her now, all these years past, that's the word that comes to mind. Poverty, that is what defined her.
As an aging, spoiled baby-boomer I find the entire story of her life fascinating and foreign and unforgivable. A sadness permeated Ruth's existence. A sadness as much a part of her as her sweat and her breath.
Her shack was up on that ridge, one of the last to still stand. The community of berry pickers all scattered in the early 1950s. Mechanization called the end of this life.
Ruth stayed, alone and sad, though not bitter. I recall her vaguely as a woman quite proud and excited about "That new electricity, that come up this way about 1948…" Proudly proclaiming, "I signed right up fer it. Didn't have but a dime to my name, but I know'd this electric was the wave of the future and I had to get me some!"
That newfangled electricity and her electric coffee pot and the little TV, my father bought her, were sources of almost childlike wonder to her. The shack situated up high on the ridge, with a clear line of sight south, she'd receive two, maybe four channels if the night air was clear.
Ruth would sit alone in her 'front parlor,' a cramped, dirty little room with only one book on the table, 'the good book,' some old newspapers and watch that 'New York City TV.'
The old woman pressed the flat palms of both her hands along her lap, trying to straighten the creases in her old, faded blue and white cotton house-dress. Then she looked back up at me and continued. "Late July was a slow time, life kind of moved like mud up in them hills. A sweaty hot month, and nobody wanted to get goin' too fast to go pickin' in that hot sun."
"Jimmy was fresh home from the big war. He went and got his-self lost in France for a year or two, we figured he was dead. I suppose I was happy as most when we seen him walkin' his tired ass up that narrow dirt path, in between them blueberry bushes, smiling and a wavin' like a hero."
"I know'd looking at him that day he'd changed. A lot of boys went to that war and come home different, sad, kind of broke down. Not Jimmy, he walked like a man with a big plan and a bigger dick."
"I didn't think much of Jimmy or his dick at the time. I turned and went back up on the hill to pick them goddamn berries. I used to like to pick up by the dead lake, Lake Maratanza, they called it. That water was crystal clear all the way to the bottom. Nothing lived in it. No fish, no weeds, nothin.' There probably some science reason. We all just said it was a magic lake. When it got too hot pickin' I'd strip off my clothes and jump in. The ice-cold water damn near give ya' a heart attack. Way up high, on top of the mountain, not even a tree for a mile or so. We called it the 'sky lake.' I'd lay on my back and feel like you was floatin' in the sky."
"I'll not forget that day, I just climbed up out of the water and up on a big white rock. Jimmy come up behind, while I was naked, and raped me. He said it was my fault, fer bein' naked and pretty. Later on, after I'd run home, so did my daddy. Jimmy said he'd been lonesome what with the war and all. That's how it was back in them days. Most men is cowards to the subject of rape and I supposed Jimmy and my daddy was like most men."
"Anyways, up on that white rock I turned on around, still naked, as Jimmy was zippin' up his pants. I kicked him full on I the nuts. Kicked him so damn hard he flewed off the rock like a big-ass, goddamn bird, and a holding his nuts with one hand and the other a flappin' in the air, he went down into the cold water. The bastard near drowned, doubled over from the gut pain. I watched him struggle as I put my work dress back on."
"He didn't drown, I'm neither here ner there on that fact, I reckon. Jimmy climbed out of the water by his-self, he never come after me again unless I wanted it."
"Sometimes I think I married him, so he'd keep that swinging dick from raping any other girls up there on the ridge."
"So, anyhow, that's how we come to be married and whatnot. After he come'd home from the big war."
Ruth could relate the details of being raped on a rock in the sun and then switch right back to the marvels of electricity and running water in the same sentence. Nothing seemed to shock or phase this old woman. Her life was, it seemed to me, a running list of facts. No editorialization, or comment offered or expected, just facts…
Running water was yet another marvel of the modern age and another gift of the new electricity, and something not to be taken for granted or wasted. This was evidenced by her scent as her weekly bath drew near. Even in her later years, we'll into her eighties, Ruth preferred the magical waters of Lake Maritanza.
Jimmy B. 'ran'ed off,' to pursue his fame and fortune and left her ruined in poverty, the children had grown and left the ridge, as did all the others.
Jimmy was destined to becoming famous as a TV preacher. As television found its way into American households, Jimmy found a way to capitalize on it. Spreading 'the word.'
Alone on the same mountain where her story began, the old woman is now buried. My father told me her grave is up amongst the berry shrubs on the north side of the mountain range.
When they were bringing cell phone towers up on top of the Gunks, in the early Twenty-First Century, her small grave and the tiny cemetery of the other ghosts of this abandoned and forgotten hole in time was plowed under and lost.
Before he died my old man wrote out a crude map, using local landmarks like 'Indian Rock,' and 'the mud path out to the Veekerderkill for refences to spot where she's buried.
I'm enjoying the respite from the crazy old bastard I'm dozing and pondering his claims to be my great-grandfather. Just as he was falling asleep I challenged him, again, that would make him nearly one-hundred and twenty years, he said, "Ain't never had no time fer no math, 'er science, 'er whatnot, I'm a man of God boy. Stop being such a asshole."
I suppose I should walk out there and find the graves. Maybe some headstones stick out of the mud some. Maybe I'd find the stone of my actual grandfather and great-grandfather and prove this crazy old bastard wrong.
I think I was about ten, maybe eleven years old, the last time I saw Ruth, Great-grandma Ruth, she was nearing one-hundred herself. We walked home along the muddy path from the lakeside and up the steep hill, past the brambles and blackberry and blueberry bushes. Her arms full of cattail rushes she'd cut down by the mucky shoreline, at the edge of the dead lake nearest her shack. She stumbled a little, tripping over the thick weeds and broken reeds. Her shoes are covered in the black mud, right up to the top, and it smelled powerful bad. Pausing at the top of the hill looking back at the lake she commented softly, "Pretty ain't it, what the way the blue sky and clouds is reflected in the water, and the sun going down behind them rich peoples houses on the far hill. The surface is so calm today it's like a mirror. August is so beautiful and hot, beautiful if it wasn't for these goddamn bugs."
She turns and continues on the path past a large field of corn. It's sweet grassy smell filling our nostrils. "My arms are full, boy. Duck your head in there and grab us a half-dozen ears. Be fast and quiet. The farmer will fill your ass with buckshot soon as look at you"
Arriving at her shack, painted mostly white—whitewashed, at least. It is small and two of the front widows are cracked, and missing pieces of glass, and filled in with cardboard from cereal boxes. Two big weeping willow frame the tiny house. An old Ford pickup, hood open, the driver's side door missing, rusts in what must have at one time been a driveway.
"Go shuck that corn, boy, and we'll eat it for dinner. I'll tend to these cattails, and I'll boil up some water."
After the corn had cooked, she brings it to the table, on a single plate. The six ears piled high in a pyramid.
"All I got to offer you is butter and salt. There ain't much else here. I hope that will do ya'"
I take a seat next to her. For the first time I realize how old she's grown. The deep wrinkles in her face, the skin of her hands almost opaque. Her hair, still mostly brown, but thinned to a few strands. The same old cotton dress and apron I swear she's worn all my life. A blue pattern on a white background. A stained old apron that tied in the back, once white, now a greasy gray.
She reaches out both her hands and opens the one window not covered in Kellogg's Corn Flake cardboard allowing in the hot night air. Taking her three ears placing them on a dirty towel, smelling of mildew. Swatting away a fly as she tries to spread the butter and shake the salt, she motions with her nose, tossing her head back for me to eat.
"Ain't been much here since that fucking old man took off. Him and his preachin'. I fish some in the streams and ponds, what ain't dead, like the sky lake, I hunt some, with that old .12 gauge, I steal some. I get by. Last week I found a new broom down back of that farmers house, on his porch. It's mine now. Things ain't too bad. I'm a thief, but I'm better than that Jimmy B Tester, I'll tell you that."
"I kept company with that burned face man, from down in that hollow, just before you come into the town. He's been dead a long time, now. I reckoned it safer fer me to keep to myself alone."
"One day late September, 1941, just before the second big war come, best I can recall, it was still warm up here on the ridge, I was walkin' home, and over in that field right near the lake where I loved to pick, I look out and I see me the most beautiful blonde mare you ever see'd. I walked up to her all quiet and gentle. I touched her and she didn't bolt 'ner even move. She stood there and let me rub them short hairs on her snout between her eyes. I'd loved to ride as a girl, and after all I'd been through with Jimmy B. and the life up here on the ridge and the damn berries and all them goddamn kids I think'd to myself, 'why God hisself and gone and blessed me and give me a horse of my own.' It was the happiest I'd ever been fer a long, long time."
"I run'ed home, my heart was light as I recall it ever bein'. I was out in my shed lookin' fer my old horses' bit and reins, when that Kippy boy, from the town, he come running up the road, all out of breath and kickin' up dust as he ran."
"Kippy, the town-boy, he was yellin' fer me to come quick. They'd found a dead body a floatin' in the lake!"
"I run'ed as fast as my feet would carry me down the path. It wasn't a hot day, ner a cold one, it was just a day and the runnin' felt ok, I suppose."
The old woman reached over and touched my young hand, "I ain't sure if I shouldn't be saying all this to one so young, boy…"
I looked back her, eagerly and said, "It's alright, great-grandma, please!"
She squeezed my hand tight and continued. "I was breathless by the time I caught Kippy. He was panting hard and pointing with one hand. Sure as I'm sitting here they was a body floatin' face down in the water. Some of the men from the ridge was there before us, and one big son-of-a-bitch, we called him Jeffery, he took'ed off his shoes and walked all careful like on the rocks leading down to the shore, like some pussy with soft feet, and swum out to fetch the body. He dragged him back into the shore and as I walked down it was no mistaken the face was that of my friend, the burned faced man."
"We all stood there, wonderin' if-in we ought to send someone down the hill to fetch the sheriff. The rule was, up here in these hills, ya' keep the hill business to yerself, then Jeffery started to yelling, 'He's been shot! He's a been shot!!' And Kippy started to run off down the dirt path and at that point I reckoned the decision had been made. I tried not to show no grief, as we me and Jimmy was still married—bullshit—that man a be fucking anything what's breathin' but me and the burned face man was a secret."
"I was pretty sad, there, about my friend, and all, but I reckoned the best thing fer me to do was get out of there, before anyone asked a lot of questions. I started to walk toward my shack, and I remembered the mare and my heart felt lighter! I run'ed back to my shed, grabbed my old bit and reins and headed out to the field. When I got there I saw your great-grandpa, Jimmy B. and some of them roughnecks from town with a rope round the neck of my horse."
"I stared to cry and I run'ed toward Jimmy and I was screamin' 'that's my horse, you son-of-a-bitch, Jimmy B.' He hauled off a slapped me one, that's why I'm missing this front tooth." She said, pointing to her mouth, forcing a fake, smile. "I see you watching me eat corn and smiling, boy, wonderin' if the missing tooth makes me miss a row of kernels," and her smile turns sincere, then her face again turns sad… "Then Jimmy says, 'yer lucky I plugged your boyfriend there and not you too. We're taking the horse fer butcherin', you'll thank me come February, when yer ass is starvin' fer meat."
Even as a young boy, I'd developed a deep sense of the sadness that was this woman. Even today, so many years since that day, the last time I saw her alive, I can't think of her and not feel that sadness. Her poverty and sadness a force. Like wind, and sunlight, and cold, Ruth's sadness was force, not manufactured for pity, not a result of her condition, it was a force she was born to. A role she was born to carry. The antithesis of the warm and loving and nurturing earth-mother, Ruth was the mother of a sadness, a darkness, most of us would be terrified to touch. I was convinced at a young age, Ruth was placed here in this world, much like a sponge, to absorb some of the sadness, to spare the rest of us.
At the old table, she again took my hand. "In one day, boy, that one September day, that goddamn Jimmy B. Tester, he killed my friend and stoled my horse and that day wasn't that much worst than any other day, far as I can tell. A heart can only take so much break, I reckon, so much sad, 'fore it never comes back. I know'd a long time Jimmy was broke, but the day he took my beautiful blond mare ta' eat and killed the burned faced man, I felt the cold inside him. His bones is froze solid, like he got ice in his belly. That day was the first day I ever felt scared a' him, even worse than the rape when I was a girl. That night I started sleepin' with the shotgun in my bed, hopin' fer the day to come to kill that son of a bitch."
A small tear formed in Ruth's left eye. "The best of the lot of kids I pushed out was James II, yer Daddy's Pa. He was a good boy, tried to do right by everyone up here on the ridge. Tried to make it a good life fer all. When things started 'ta go bad he tried to organize us all in a union. He died a long ways back, But my boy, James, he was the best of the lot. Sometimes I think I must've got lit up on 'shine and done fucked some other boy, cause James, he was not nothing of Jimmy B.
About that time I heard my father's Ford pulling in front of the old woman's shack. He came in, asked if I'd been much of a bother. The old woman said no, we spent the day collecting cattail rushes and stealing corn. She bent down and kissed my cheek, her breath was stale and sour and smelled like the inside of a coffee pot, but we'd had no coffee. She leaned down and whispered in my ear, "One day, boy, when you get yer self all grow'ed up, I want you to promise me you'll tell the world the story of that evil bastard. Promise me you will boy."
I looked her in the eye, a little scared, and nodded my head.
I got in the car, sitting down in the expansive bench seat, my eyes barely over the dashboard. I looked over at my dad, as we drove off. I played with the long, silver knobs on the AM radio and listened to the static between stations for a moment. Then I asked him why he never talks a of his grandpa. My dad doesn't answer, he simply stares off down the road.
That was the last time I saw my great-grandma alive.