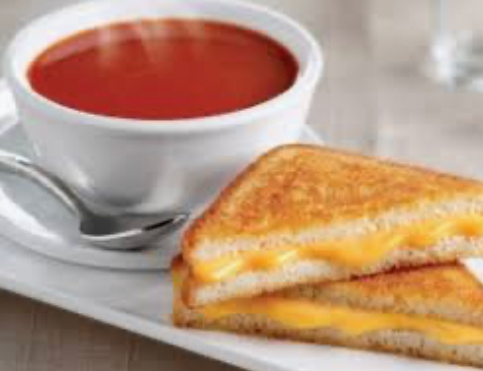 I just ate a grilled cheese sandwich and tomato soup for the first time in a very long time.
My big sister used to make grilled cheese sandwiches and tomato soup on Saturdays, in the winter, while she taught me about Elvis and the Beatles and rock and roll. She's my big sister, but I've always called her 'baby sister.' She'll always be my baby sister.
I bit into the hot, gooey cheese tonight and it was 1962. Fords and Chevys and Dodges had fins, and they looked like jets and JFK wasn't dead, and we weren't quite sure what to make of the noisy world and words like 'Cuban missile crisis' and men flying around in space.
Saturday afternoon and my sister and me eating lunch in the tiny kitchen of the stone house by the swamp they called a lake. Sky King on the little black and white TV, right after American Bandstand. The world was smaller, and the snow fell more regularly. You could trust the snow. You could trust a lot of things, and things that didn't make sense were not quite so scary as they are now. Not so scary because we believed the best of this world was yet to come, and the soup was hot and good and she always made the buttery toast perfect.
Tonight, I slowly swallowed the hot soup and chewed the last crust of bread and thought, 'this is the best goddamn sandwich I've ever had.'