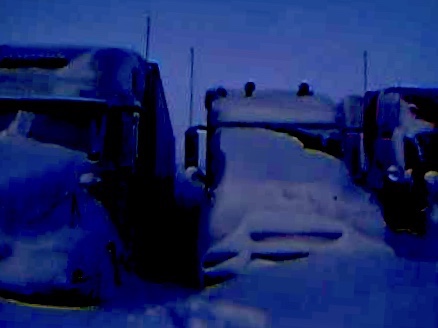 Alone in my red Ford, the Lowell George song Willin' comes on the radio like an invasion from a lost and forgotten past life.
Remembering sitting in a truck stop on the Trans-Canada highway, forty below zero at 3 am, watching it snow, seemingly without end into a whiteout.
This pretty waitress, in a short skirt, bringing us a constant stream of coffee while we sat chain smoking cigarettes and arguing over some meaningless bullshit, probably my need for a haircut and or shower or some life decision I was about to monumentally fuck up.
That '78 Kenworth with the Cummins Big Cam 400, that Bill Jones and I would use to turn ourselves into The Flying Gonzo Brothers by summer, idling for hours, a hundred feet away in the freezing cold.
We pretty much ruined the entire east-coast for Big Frank that year. He couldn't go into a truck stop after that without hearing about those two assholes he had working for him. Some places said he owed them money for something we'd done or damaged or destroyed.
Fleeting moments that break through blur at the strangest times, like hot summer days.
Some quick math and the realization that pretty waitress, Dallas Alice, is now seventy-five.
Weed, whites and wine…